You just don't know how wonderful life is until an emergency comes up. Last week my husband was diagnosed with a deep vein blood clot in his leg. Yesterday morning I had the scare of my life. My husband had some chest pain and difficulty breathing which are indication that the clot broke loose and travelled to his lungs which can be life threatening. Needless to say, I was a mess in the ER yesterday. All I kept thinking about is what if this could be it. What and how would I tell the kids? What would I do without him?! Thankfully it wasn't a pulmonary embolism! It turned out to be pneumonia which isn't good but a lot better than the other. He is back home on even more medication but doing much better.
Which leads to today's post, It's a Wonderful Life! I had started working on this pillow 2 days ago but just didn't realize how true the message was until yesterday. Now that I've calmed down and hubby seems good enough to do a conference call, I wanted to share my latest craft with you. Know that I'm taking good care of hubby but I needed a little therapeutic blog time.
I used muslin, my cricut and Sure Cuts a Lot software, freezer paper, iron, craft paint, and ribbon. Of course I cut my muslin down to the dimensions of my pillow plus a 1/2", giving a 1/4" for seam allowance on all sides. I found out about a great software called Sure Cuts a Lot. It allows you to cut any font on your computer and SVG images. So, no more cartridges. This was the first time I used the software. I selected my font and size. Typed out my words and flipped it to mirror image. I did this because when you use freezer paper with the cricut, you put the matte side down. Thus, when ironing on the freezer paper, your message will read correctly. Then, the tough part was ironing down the paper and putting all of the little pieces in the proper places. Once ironed on, I painted away, sewed and viola.
I added the ribbon and a little flea market pin bling to dress it up.
So, as you read the message, It's a Wonderful Life, just remember that and enjoy everyday because you just don't know when things could change.
I am sharing this over at:
Today's Creative blog
,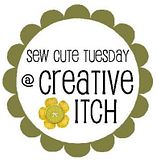 Before and After party @
Centsational Girl's
Christmas Craft link party.
(Will probably edit to add links to parties.)