Warning: Extremely photo heavy post!
I know you understand. We have all been there. Drooling over another blogger's home. I have followed Savvy Southern Style for a long time. I absolutely fell head over heels in love with her hutch. Just take a look at it.
Now that you have seen it, you can understand why my heart went pitter patter. I have been on the hunt for just the right piece. With diligence and time, I came across just the right candidate on craigslist.
It start out like this:
Indecision hit and I put out a call for help to you guys.
I decided to go with ASCP Paris Gray base coat with a dry brush of ASCP Pure White. These shots are from Christmas.
When I put away the Christmas decor, I wasn't diggin' the blue anymore. I decided to take everything out and paint the back gray. Then, I set to work cramping in as much of my ironstone
hoard
collection as I could. I added a few touches of spring. I am completely loving it.
Every time I walk by, I stop and smile! I really love how it has turned out! Love to know what you think.
Sharing at: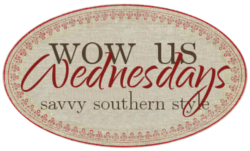 Between Naps on the Porch