As you can tell, it was missing a drawer front as well as drawer pulls. You can't tell from this picture but the top was a little rough and the rope detail around the top was really rough.
I was originally going to paint it. But in the light of day, I could see it only needed a good cleaning and refinishing the top. That was no problem. This was my first venture into using a stripper. No jokes please. I had to listen to enough of them from hubby every time I talked about "stripping" the desk. He was a thousand laughs a minute I tell you. So, I worked on the top while hubby made a bottom for the now cubby hole instead of drawer.
Let me tell you that it was not easy finding drawer pulls the right size. I luckily found some at Menard's that were being discontinued for only $2.50 each. They were a brass but I decided to spray paint them oil rubbed bronze. Unfortunately, it looked too black for my taste. So, I took a little Spanish rub n' buff to add a little more umf to the handles.
After I stained and polyed the inside of the lower drawer made cubby, it was ready to go. But then, the phone rang and it was the neighbor who had put the desk out for trash. My heart beat a little faster because I thought maybe she was going to ask for it back. But to my surprise, she had told me she had a piece of glass specifically cut for the desk. She said I could have it or else it would be on its way to Goodwill. I quickly did a quiet squeal and cartwheel. So, without further ado, here it is:
My son informed me that he needs a laptop to do his homework at his new desk. I had to break the news to him that kindergartners don't have homework at his school.
I'm linking up with: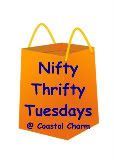 May edit to add links to parties.