If you saw my last post, you know about my knob hiccups for this beautiful dresser I picked up for only $5.
You can see the mismatched knobs. What isn't quite as noticeable in this photo is the crazy green paint. It has a limish green base color with a darker green wash. It was really odd. That is probably why I got it for $5. Other than the color and the knobs, it was a very sturdy, well built dresser. Oh did I forget to say heavy too?!
I knew this dresser was a great candidate to use my chalk paint. When I was taking out the drawers, I felt like I was with my grandma. All of the drawers had that smell that my grandma's make-up had. It wasn't a bad smell at all. In fact, it smelled tons better than most antique dresser. Anyways, back to the transformation. Because of the magical powers of chalk paint, I only applied one coat of Duck Egg Blue. After a coat of wax and applying the new knobs, the dresser is transformed. First a reminder of the knobs.
Now the whole dresser!
So much better don't you think? I'm sharing over at: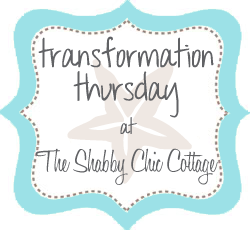 Frugal Friday @
All things furniture @