Wow! What a difference a slipcover can make! Originally, we started out with a twin bed in this room. In all honesty, we never have guests and well it just wasn't as comfortable as a couch to veg out watching TV. I finally convinced hubby this Christmas we needed a new couch after ten years. So, the new couch was placed in the living room and the old one moved up to the "new room." Here is what it looked like before:
I know, it doesn't quite look casual and coastal, but after a few days of blood, sweat, and almost tears. Viola:
Not too bad for my first couch slipcover. My husband and I both think that it feels more comfortable for some reason. We love it. Okay, hubby and the kids could careless but every time I see it I feel so relaxed. It really made the room feel bigger just by being white.
If anyone out there is contemplating doing your first slipcover, I recommend taking your time. The first day a pinned and cut the fabric. About 2 days later, I sewed it, got frustrated with my sewing machine, gave up, then came back to it. I spent the next week on a white sofa with the original cushions. You know life has a way of happening. It does get difficult to let a 5 yr. old "put the pedal to the metal" while I wrangle and feed the fabric through. All the while, my 3yr. old is putting push pins into the carpet and unspooling my thread. But hey, a girl has to get work done some way. My kids always like "to help." I am sharing my project at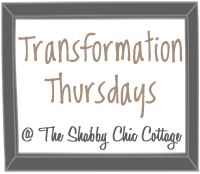 ,
,
, and
Funky Junk Interiors
. You should check out the cool stuff other people are doing and be inspired!
Edited to add Funky Junk Interiors link on June 26, 2010.