I have been inspired by Mustard Seed Creations grain sack ottoman found
here
. I found this great footstool at the Goodwill for only $4.99.
I know, not pretty, but I have plans. First of which is to get rid of the vinyl material with questionable sticky residue. Here are the fabrics that I peeled away:
I'm thinking that perhaps it graced a roller rink in it's original 70's orange vinyl. It made me want to put on some of those rented, brown skates and get a disco ball out. Since I was missing all of those things, I continued on. I dug out some fabric in my stash and recovered it.
I bleached a drop cloth and painted on some red stripes with craft paint to get that grain sack feel.
Noticed that there is freezer paper I placed under the fabric while I taped and painted on the stripes. I then cut out a skirt for the footstool. I just have to say that gathering a canvas drop cloth for a skirt is messy! It unraveled a lot!!!!
I know it isn't like Miss Mustard Seed's just yet. So, I tried to rock out the initials.
If you checked out Miss Mustard Seed's ottoman post, you will notice that she painted the initials. Well, it took me 2 days to build up the courage to paint on the slipcover. I mean I just spent time making it, could I really paint initials? I knew for sure there was no way I could free hand it. I printed out the initials, taped it to a window, and traced it onto the slipcover with a pencil. I will warn you, your arms may start to feel a slight burn. If you look closely, you may see a pencil mark here or there.
Over all, I am pretty happy with the result. I am a wanna be Miss Mustard Seed! I hope I will do her proud!
I will be linking up with:
,
Blue Cricket Design
,
,
Editing post to add links to parties.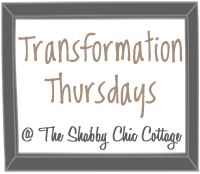 ,
,