Don't let the title fool you. This post really isn't about sewing. It is about a make over on a sewing table. I spotted this cute little sewing cabinet for a red hot steal! I grabbed it up. I don't think a lot of people would actually use this as a sewing table. It seems just too small for that but wouldn't it make a great side table?
I didn't really care for the stain. It had a little too much of a red tone. Once at home, I knew I was finally going to give the Annie Sloan's Chateau Gray another try. I had used it previously on a small project and didn't really care for it but decided to try it out on something larger. Two coats, some distressing, and wax...
How did it turn out? I used both clear and dark wax. I think the key for me using the wax is to use a rag. I know everyone says it wastes wax but I have gotten better results this way.
I'm sharing over at: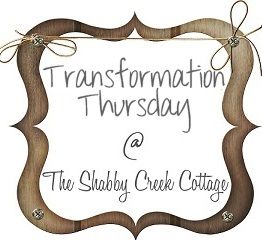 Frugal Friday @