I have been meaning to share with you some of my latest auction finds and to get your opinions.
First up is this huge $5 french mirror. It weighs a ton. I think I have a little plan up my sleeve for this one.
Next, I got this two tiered cart for $10 or $15 (I can't remember which) Can you believe that all the dirt came for free?! I figure it would look cute in the booth after I get it all cleaned up.
Now for the gorgeous frame and sconces. Sorry I didn't think to get a close up to show off all of the beautiful details.
So, here is where I need some advice. First, the sconces could be wired to become electric verses just using candles. I was thinking of replacing the current ironwork I have above the fireplace with the empty frame and the sconces. This is a current picture of my mantel.
Would it look too corny to use an empty frame? Would the sconces be too much? It is awful to be so indecisive. I could really use some guidance from you wonderful gals out in blog land.
I wanted to save the best for last. This Italian chair I picked up at the auction for $45. I felt like it was a steal since I maybe have seen this style once a year at the auctions since I started going. Because I just didn't know when I would be able to stumble upon something similar, I snatched it up as an early birthday gift.
I absolutely love it! I didn't realize how dirty it really was until it hit the sunlight. The amount of dirt and who knows what else I have been cleaning off is just unreal. I've got to totally strip this chair down to the bones. I am going to paint the frame a softer, pale, more muted turquoise. You'll just have to stay tuned in to see my progress. I can't promise it will happen at lightning speeds but slow and steady wins the race.
Hope you enjoyed peaking at my finds. Let me know what you think about the frame and sconces.
Sharing over at: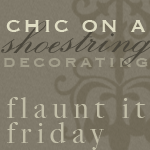 The Shabby Nest